Death Penalty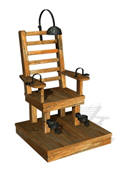 Conservative Talking Points views the death penalty as a necessary tool to stop evil. Those who do not believe in the death penalty have never really experienced evil.
Used in Most States (Source: DeathPenaltyInfo.org)
· 36 of the 50 states in America have implemented the death penalty since it was reinstated in 1976.
· Oklahoma has the highest execution rate per capita over the past 23 years with Texas having the highest number of executions at 437 as of April 2007.
Death Penalty - The Ultimate Deterrent
· During a virtual cessation of executions (1965-1980) the number of annual murders in the United States skyrocketed from 9,960 to 23,040 - a 131% increase. The murder rate doubled from 5.1 to 10.2. (Source: Jewish World Review - Jun 2002)
· The murder rate dropped from a high of 10.2 in 1980 to 5.7 in 1999 which is a 44% reduction. (Source: Jewish World Review - Jun 2002)
· One execution deters an average of 18 murders. (Source: Emory University Study - 2003)
Common Sense Quotes
· "If we execute murderers and there is in fact no deterrent effect, we have killed a bunch of murderers. If we fail to execute murderers and doing so would in fact have deterred other murders, we have allowed the killing of a bunch of innocent victims. I would much rather risk the former. This, to me, is not a tough call." John McAdams (Source: Marquette University/Department of Political Science)
· "Have you ever thought about how many criminals escape punishment, and yet the victims never have a chance to do that? Are crime victims in the United States today the forgotten people of our time? Do they receive full measure of justice?" Edgar Hoover (Source: Isenberg - 1977)
· "An additional execution per year may have resulted on the average in seven or eight fewer murders." Isaac Ehrlich (Source: United States Conference of Catholic Bishops - 1981)
· "The murderer shall surely be put to death." (Source: The Bible - Numbers 35:16-18)
High Cost of Delay
· Life without parole has an annual cost of incarceration of $40,000 to $50,000 a year for each prisoner. (Source: Justice For All)
· Cell costs for "life without parole' are significantly more expensive, over time, than their death penalty counterparts. (Source: WesleyLowe.com)
· Speeding up executions by cutting 2.75 years from the time spent on death row would prevent one murder per prisoner. (Source: Emory University Study - 2004)
---