Sex Education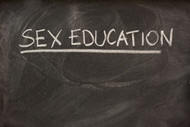 Conservative Talking Points views sex education and abstinence as two critical subjects best taught by the parents. Since government schools prefer to push their liberal birth control policies, device distribution and pro-gay views on our impressionable teens, we all need to take our parental rights back and fight for our kids.
Kinder-Care Sex Ed
· During the 2008 presidential campaign Barack Obama was talking about Rep. Alan Keyes's comments concerning Obama's previous actions in the State legislature dealing with teaching kids in kindergarten sex education and Obama said, "But it's the right thing to do...to provide age-appropriate sex education, science-based sex education in schools." (Source: ABC New - Sep 2008)
· After the Alameda County California school board refused to grant opt-out requests, parents sued the Alameda Unified School District. Opt-out requests were asked for when the school district enacted a controversial pro-homosexual, bisexual, transgender anti-bullying program for kindergarten and elementary school-aged kids. (Source: Oakland Tribune - Aug 2009)
· "We ought to have comprehensive sex education in our schools, from kindergarten through 12th grade." Former Surgeon General Joycelyn Elders (Source: CNS News - Jul 2009)
Gay Sex Ed?
· Within a sex education bill introduced in Congress that could revive the Responsible Education About Life Act, federally funded Sex Ed programs in public schools would be prohibited from omitting information about homosexuals. (Source: Open Congress - HR1551, July 2009)
· Back in 1992 the New York City school system was embroiled in a controversy over a first-grade curriculum guide entitled "Children of the Rainbow", which says children must be taught to acknowledge the positive aspects of all types of households, including gay or lesbian parents. Other books in the first-grade curriculum included "Heather Has Two Mommies" and "Daddy's Roommate". (Source: New York Times - Sep 1992)
Sex Ed vs Abstinence
· Many schools are implementing a "Comprehensive Sex-Ed Curricula" can include the sexually graphic manual called "Be Proud! Be Responsible!" focusing on gay sex. (Heritage Foundation - Aug 2004)
· 91% of parents prefer schools to teach "teens should be expected to abstain from sexual activity during high-school years." (Source: Zogby International - Dec 2003)
· 79% of parents prefer their teens to be taught that they should abstain from sexual activity until they are married or at least in an adult relationship leading to marriage. (Source: Zogby International - Dec 2003)
· Only 7% of parents buy into "Comprehensive Sex-Ed Curricula" which conveys the strong implicit message that teen sexual activity is okay as long as contraception is used. (Heritage Foundation - Aug 2004)
· Since most sexually active teens regret their initial sexual experience and wish they had waited, authentic abstinence programs show teen abstinence is not merely a solution to pregnancy, STDs, and emotional harm, but is also a pathway leading to self-respect and respect for others, to healthier relationships and real love. (Heritage Foundation - Aug 2004)
Teenage STD Epidemic
· One in two sexually active youths will contract an STD by age 25. (Source: 2005 American Social Health Association)
· Researchers at the Federal Centers for Disease Control and Prevention found at least 1 in 4 teenage American girls has a sexually transmitted disease. (Source: MSNBC - Mar 2008)
Pregnancy Dropouts
· In America, nearly one million young women under the age of 20 get pregnant each year. (Source: Alan Guttmacher Institute - 1996)
· Approximately 4 in 10 young women in America get pregnant at least once before age 20. (Source: Alan Guttmacher Institute - 1996)
· New detailed data on teen birth rates shows sharp increases in 26 states and represents most regions of America. (Source: USA Today - Jan 2009)
Single Parent Poverty
· 42.3% of children who are being raised by single mothers were living below the poverty level in 2003. (Source: United States Census Bureau)
· Around 84% of custodial parents are mothers and 16% of custodial parents are fathers (Source: United States Census Bureau)
· 80% of teen mothers must rely on welfare at some point. (Source: United States Census Bureau)
· Only about one of three teen mothers obtain a high school diploma. (Source: United States Census Bureau)
---